Most viewed articles in the past month

About the Journal
Electronic Journal of Structural Engineering
Electronic Journal of Structural Engineering is an open access, peer-reviewed journal that presents scientific research in various fields within structural engineering. Being one of the first digital journals around the world, the Electronic Journal of Structural Engineering (EJSE) is an international forum for the dissemination and discussion of leading-edge research and practical applications in Structural Engineering. Electronic Journal of Structural Engineering is published by Electronic Journals for Science and Engineering - International (EJSEI).
Current Issue
Vol. 23 No. 3 (2023)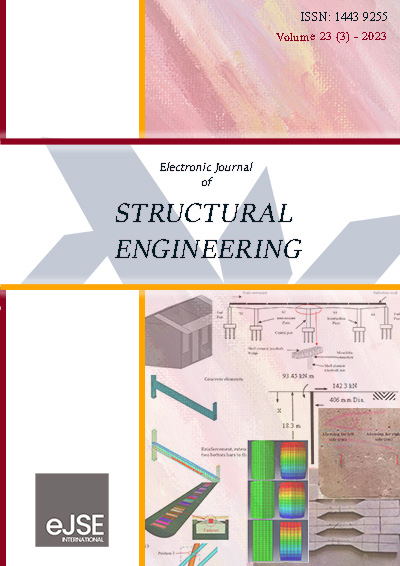 Welcome to the latest edition of the Electronic Journal of Structural Engineering, presenting an array of innovative research papers covering a wide spectrum of topics within the field. In this compilation, we focus on pivotal studies that explore the complexities and advancements in civil engineering. This issue consisted of 8 manuscripts. These include a Nonlinear Finite Element Analysis of laterally loaded piles in Layered Soils, a Numerical Study on Concrete Filled Steel Tubular Columns Under Compression, a Comparative Study comparing Sandwich Roof Panels with Coconut Fibre against Polyurethane Core, a Study of dynamic impact factors of high-speed railway bridges, Mechanical properties testing of plant fiber reinforced cementitious composites, Parameters Affecting Flexural Mechanism to Prevent Progressive Collapse of RC Buildings, a Laboratory study on concrete pavement containing blast furnace slag and Gilsonite, and a Dynamic response analysis of the process of the utility shield tunnel under-passing the operating subway tunnel. These papers offer valuable insights into various aspects of civil and structural engineering, contributing to the advancement of the field and promoting sustainable solutions.
View All Issues